We've had the opportunity to work on some really exciting projects, and here are a few case studies. Also see our testimonials page.
Please note that due to the nature of our content management systems, customers are free to change elements of their website and may have done so since launch.
Cluny Bank
Cluny Bank is a four-star restaurant with rooms that has recently been awarded one of only two AA rosettes in Moray.
Owners Lloyd and Julia came to us because their website had become outdated and had inherent problems in different browsers. It was a simple fix, but the problems had been detracting customers.
We advised that various elements of their website could be improved strategically, and they appointed us to rebuild it from scratch.
We spent time in the hotel and restaurant to get a true feel of the ambience. The restaurant has a clutch of awards, and it was very important to us that whatever impression the website gave, this was reflected throughout the whole hotel.
We provided new photography for all of the rooms, created an online booking form for the rooms and for the restaurant, and we provide ongoing advice and support on the hotel's web marketing campaigns.
Social media has been managed entirely by Julia, who put the restaurant onto Facebook and Twitter and won herself a social media laurel from the Scottish Hotel Awards scheme.
It has consistently been the top hotel in Forres and Moray for several years in a row on TripAdvisor and has earned 5/5 for the last three years, with glowing five-star reviews.
The website has helped Cluny Bank improve online bookings for the hotel, with the last three years, despite economic conditions, proving to be the busiest they have ever experienced.
Numbers-wise the website is drawing a year-on-year increase of 25% of new and repeat visits, and we've recently introduced a mobile booking service.
"Developing a strategy" – Read the testimonial from Julia Kenny, owner
Highland Wildcats
Highland Wildcats are four-times Scottish American football champions and had a very detailed brief for their new website.
They not only wanted to use it to distribute news and information about the club's progress and successes, but they had a grand plan to introduce a registration system to draw in new youth players.
The system went further to allow coaches to record and monitor nutrition and health, to make notes for players to read and act on.
The challenge for us was to deliver all this functionality within their budget.
"Knowledge of social media and online content" – Read the testimonial from Robbie Paulin, Youth Development Coach
Inverness Gigs
Inverness Gigs started out as a hobby website, with news and reviews of local bands.
It's a vibrant industry and the site soon reached an admirable following.
They approached us for one reason — they were getting hacked on an almost daily basis. A popular site often draws attention from the wrong type of people!
But there were many other areas in which we thought we could help. With a distinct media background, Canary Dwarf were able to see what this site was capable of, and worked with the owners to redevelop it into the north's leading resource on music, bands and festivals, now drawing in thousands of hits a day, and scooping the local media with news and same-day reviews of cultural highlights.
We also integrated active social media commenting right into the website, to keep the vibe alive whether readers were on the site or on their favourite social network.
Impressively, the site is now so secure that we can monitor hack attempts, and we can still see them coming in, but they fall at the first fence and soon lose interest.
Last year, the website was shortlisted for a Highlands and Islands Media award.
"Invaluable advice" – Read the testimonial from Chris Lemon, publishing editor
Inverness Leisure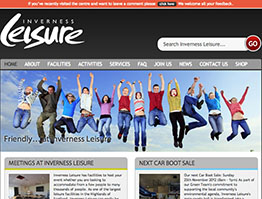 Inverness Leisure is the largest leisure centre in the north of Scotland with a footfall of over a million visitors a year. Increasing traffic and a need to communicate with the public quickly and accessibly was vital to the leisure centre's development.
Their existing website was limited in its scope for content management and flexibility.
Canary Dwarf met with key stakeholders and the CEO to develop a new website and customer portal.
We helped Inverness Leisure meet the increasing need for customers to access programmes and programme alterations wherever they were, whether using a desktop, tablet or smartphone.
As a leisure centre, customers typically relaxed in the facility, and made use of the free wifi available.
This was an opportunity to post physical calls to action around the centre to allow visitors to access the website in-house, and take it away with them on their mobiles.
The staff have found the system so easy to use, that new departments have become involved in content publishing, and the website has integrated waiting lists and online booking systems.
Traffic, particularly mobile, has increased year-on-year and the managers now have a valuable resource they use to interact with their customers.
"New departments have become involved in content publishing" – Read the testimonial from James Martin, CEO
 A L Kennedy
Alison got so tardy with her website that she just didn't update it at all. It was built on an unfriendly platform and had an outdated design.
She came to us to inject new vigour into her online portfolio. Providing a content publishing platform for such a well-known author was not only a privilege, but it was easy. Alison had loads of great content!
Canary Dwarf re-imagined much of the resources already on her site. Her content and imagery were good, but lacked lustre and wasn't doing her work justice.
Instead of commissioning new pictures, we provided a fresh, new design, used some of the quirky notes she has collected as a comedian, and used them to portray the author in the way which suited her dark style.
She is based in Glasgow and London, so we provided training over the phone and gave her access to our support system.
"Exactly what I hoped for" – Read the testimonial from A L Kennedy, writer and comedian
Heilan Loos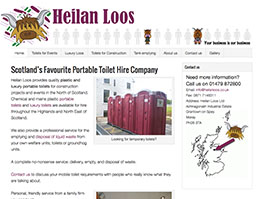 Heilan Loos are a local supplier of portable toilets for hire. Their website was notably slipping down the rankings, and they chose to come to one of our full-day, one-to-one Sitebulilder workshops.
This is an intensive hands-on approach to website building in which the customer sits alongside our developer/designer and they work together to design, build and populate a website in just one day.
Having seven hours of one-to-one not only allows the customers to learn everything about the marketing process, but it allows us to get a deeper insight into how a business can use the website to market their business online and offline.
Heilan Loos were particularly concerned about their drop in ranking, having fallen off the first page, even for local searches. We were able to focus on this, evaluate how their competitors were performing and respond with short-term advantages and long-term advice.
Today they are top of the shop for local searches in Highlands and Moray, and third In Scotland.
Our long-term approach to SEO means they are likely to continue climbing to eventually become the highest ranked toilet hire company in Scotland without having to resort to search 'tricks'.
"Afordable proice" – Read the testimonial from Iona Clark, owner
Boat of Garten Community
Boat of Garten is a small village with a big community. Their dull website didn't represent the passion within the village that made it one of the most interesting places to visit in the Cairngorms National Park.
Canary Dwarf was asked to take part in a pilot project to build websites for villages in the park that integrated with a 'mother' database managed by the Cairngorms Business Partnership.
The representatives from the village had built a rapport with their website and a little hesitant at first.
Canary Dwarf provided them a simple yet effective community portal that drives tourism traffic to the village.
We worked closely with the community company to build an interactive website that not only has brought Boat of Garten an increase in traffic from search engines, but an increase in community involvement.
Village volunteers now manages all aspects of the website themselves after having content management training. They have a calendar of events which they update regularly, and use the website to promote their annual Osprey Festival, their biggest annual spike in traffic.
"Painless, enjoyable and cost-effective" – Read the testimonial from Anna Barton, Chair, Boat of Garten Community Company